Southern Norway
Agder
LINDESNES
Villmarkscamp
Mjåland, Lindesnes

+47 90660209

km From You
Villmarkscamp is a family and fishing camp site in a beautiful setting on the banks of river Mandalselva with plenty of room for caravans, camper vans and tents.
Villmarkscamp is een nieuwe familie- en viscamping in een prachtige, natuurlijke omgeving aan de oever van de rivier Mandalselva. Volop plek voor caravans, campers en tenten. Het sanitairgebouw, dat ook een keuken en wasruimte herbergt, is rolstoelvriendelijk. Afslag naar de camping bij Laudal Kraftverk/Marnar Laksesenter. Ideale plek voor gezinnen die graag vakantie vieren in een rustige omgeving.
Er verblijven ook veel zalmvissers op de camping.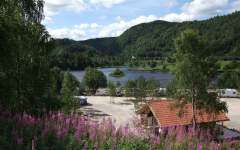 ---
Last Updated

:

Source

: Visit Lindesnes
Algemeen
Toegankelijkheid
Toegankelijk voor rolstoelgebruikers
Landschap
Seizoen
Overnachting
Camping
Caravanplaatsen
Wasruimte
Sanitaire voorzieningen
Hotel voorzieningen
Gezinsvriendelijk
Lunchpakket
Diervriendelijk
Buitenactiviteiten
Activiteiten
Diepzeevissen
Vissen in de fjord
Vliegvissen
Wandelen
Jagen en vissen
Elandsafari
Natuurpad
Riviervissen
Safari
Zalmvissen
Zeevissen
Zwemmen
Zwemmen in de zee
Fietsen
Vissen
Diepzeevissen
Vliegvissen
Zoetwatervissen
Riviervissen
Zalmvissen
Wildlife & Safari's
Plan je reis
Services
Gezinsvriendelijk
Huisdieren toegestaan
Activiteiten
Activiteiten
Pretparken
Facts
Landscape
Lake area
Season
Spring
Green Travel
The Villmarkscamp has obtained certification for their environmental efforts by:
Environmental certification of private and public enterprises, also tourism.
Traveler Reviews in partnership with
Your Recently Viewed Pages