Southern Norway
Agder
LINDESNES
Høgetveits Naturcamp
Abelsæth, Marnardal

+47 38286975

km From You
Høgetveits Naturcamp is the perfect choice when you need a relaxing holiday, far away from the stress and strain of everyday life.
At Høgetveits you can park your camper van, set up your tent, or rent a cabin in beautiful, scenic surroundings in the midst of Norway's breathtaking natural beauty. Children can either play on the exciting and fun activities at the campsite or go out and explore the Norwegian countryside. We have marked trails, with tables and chairs en route, barbecue sites, and we are situated in the midst of the abundant Norwegian wildlife and nature at its most undisturbed. 
Comfortable and activity-filled holidays, that is the simplest way to sum up Høgetveits Naturcamp. Nothing is left to chance - as our special guests we take great pride in giving you the best holiday imaginable! 
We provide electricity - hot and cold running water - showers - toilet facilities - septic tank drainage. We will freeze fish and berries for you, and our guests have full use of the communal barbecue etc. Laundry facilities are provided. 
Every morning we offer delicious freshly baked rolls (make sure you order them the day before) - cooked in traditional Norwegian style in our special wood-fired range. 
If a peaceful holiday deep in the stunning beauty of the Norwegian countryside is what you need, then Høgetveits Naturcamp is the perfect place for you and your family. We'll give you a heartfelt welcome you won't forget! 
Høgetveits Naturcamp has its own freshwater fishing lake with free fishing for the entire holiday. We rent out canoes and rowing boats so that you can forget your troubles and relax on the peaceful waters of the lake. If it's salmon you're after, fishing permits can be purchased at Mandalselva and Audneelva - both renowned for their excellent salmon fishing. 
Høgetveits Naturcamp has abundant wildlife and is a unique area in which to experience Norwegian wildlife. It's not uncommon for elks - among Norway's most beautiful animals - to come right into the campsite. And if you fancy delicious elk soup in genuine Norwegian farm style, we're more than happy to oblige. (Must be booked the day before) 
At Høgetveits Naturcamp we offer tours (and daytrips) by horse and cart, as well as walking excursions, fishing and rental of canoes and rowing boats. You can also buy coffee and waffles on the campsite. The campsite is also home to sheep, rabbits, dogs and hens.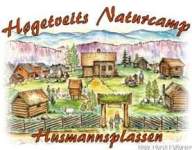 ---
Last Updated

:

Source

: Visit Lindesnes
Overnachting
Hotel voorzieningen
Buitenactiviteiten
Activiteiten
Barbecueplaats
Kanoën
Jagen en vissen
Fietsen
Kanoën & kajakken
Vissen
Visvergunning nodig
Zoetwatervissen
Activiteiten
Kinderactiviteiten
Traveler Reviews in partnership with
Your Recently Viewed Pages